Unique Paradise Resort
Unique Paradise Resort is an oasis of tranquillity for leisure and business travellers near pristine Na Jomtien Beach, Pattaya.
Its pool villas provide the space for guests to unwind in total privacy. The villas are perfect for family holidays and company outings with their fully equipped kitchen, BBQ and sunbathing areas, pool sala, lush garden and free WiFi. They emit a cosy, homely feel.

Check availability now
Or Alternatively you can give us a call on +66 (0) 989824055, 0814372993
Resort at a glance
Unique Paradise Resort is an oasis of tranquility for leisure and business travelers at pristine Na Jomtien Beach, Pattaya. Its pool villas provide the space for guests to truly relax in absolute privacy.
Location
A two-hour drive southeast of Bangkok's Suvarnabhumi International Airport and 15 minutes from U-Tapao International Airport, Unique Paradise Resort provides convenient access to the best this exhilarating playground on the Gulf of Thailand has to offer. Ideally positioned at Pattaya's tranquil Na Jomtien Beach, Unique Paradise Resort delivers a totally private, serene atmosphere in pool villas, while placing at guests' fingertips a plethora of unforgettable attractions and activities.
5 min drive to Silverlake Winery
10 min Central Pattaya
10 min Pattaya Dolphin World
10 min Cartoon Network Water Park
15 min Tropical Fruit Gardens
15 min U-Tapao International Airport
10 min Nong Nooch Tropical Botanical Garden
2 hrs Suvarnabhumi International Airport
ROOMS & SUITES
Unique Paradise Resort's pool villas are peace and relaxation sanctuaries.
Completely private and spacious, their amenities include full furnishings, a well-equipped kitchen and wardrobes.
Three-bedroom villas
Private pool with sala and sunbathing and BBQ areas
Flat-screen TV, CD player and free WiFi
Dining area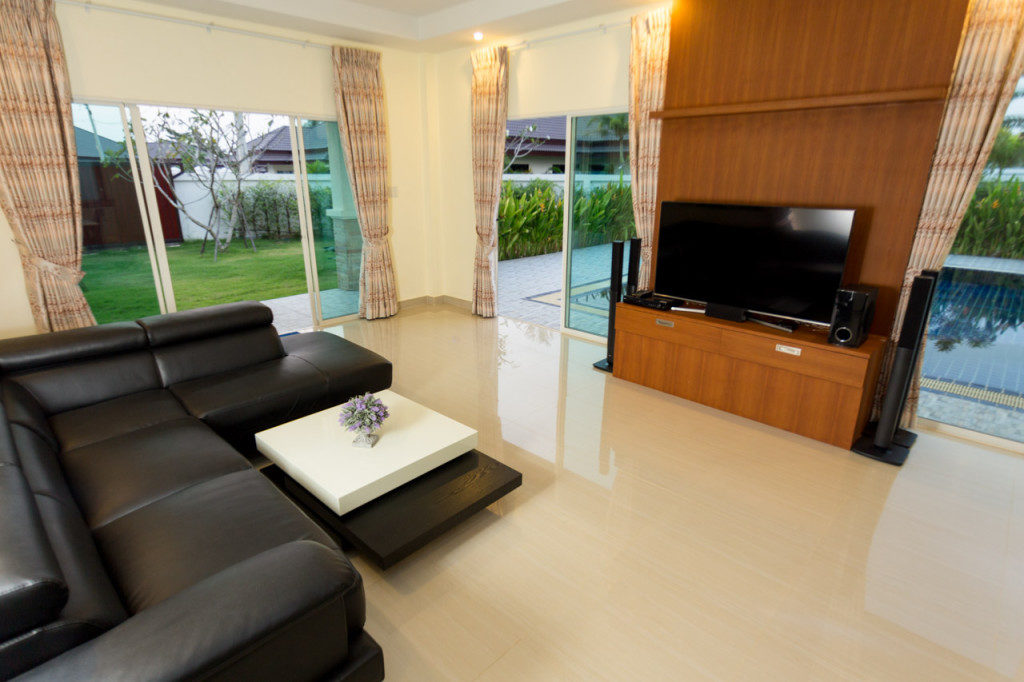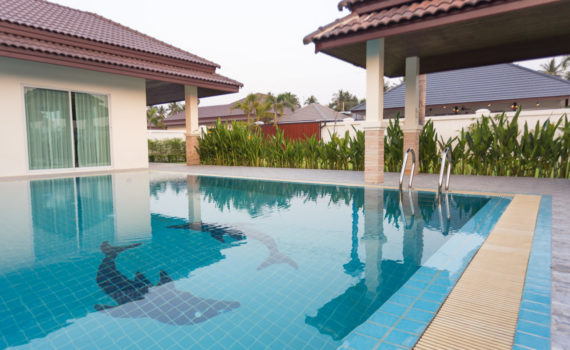 DINING
Unique Paradise Resort serves succulent dishes with a homemade flavour. The cuisine is founded on the freshest locally sourced ingredients and served in a scenic mountain environment.
Superb culinary team
Open-air restaurant serving wide selection of amazing Thai and international dishes
An elaborate buffet breakfast
DOING BUSINESS
Unique Paradise Resort's spacious pool villas provide the ideal environment for business travellers who like more room to relax in absolute privacy. They are also perfect for company outings given their fully equipped kitchen, BBQ and sunbathing areas, pool sala, free WiFi and convenient access to the best this pulsating beach resort destination has to offer.
ATTRACTIONS
Unique Paradise Resort ideally positions guests to attack this fascinating, stimulating destination, providing them with easy access to its premier attractions.
 Koh Larn Coral Island: A short speedboat trip from Pattaya and you arrive at this spectacular island. The sand is pure white, the azure water translucent. The beach is set back in a cove. Swim, snorkel or relax on the beach. There are a number of water-sport options, including skiing, parasailing and windsurfing.
Underwater World: A showcase of the region's eclectic marine life, with visitors taken on a 'voyage' to the bottom of the sea, passing over luminous coral, viewing a myriad exotic creatures and travelling through a 100-metre- long tunnel with acrylic windows where shoals of fish dart and predators glide. Open 9am-6pm daily.
Art in Paradise: A popular interactive attraction where three- dimensional wall paintings come to 'life' through illusion: animals smashing through walls, people balancing over raging waterfalls and more. There are over 100 individual art pieces in 10 themed sections, including optical illusions, wild animals, nature and past civilisations. Located on 2 nd Road Pattaya. Open 9am-9pm daily.
Nong Nooch Tropical Garden Pattaya: A stunning 500-acre landscaped garden teeming with tropical plants and blossoms. It is made even more compelling by the conflation of the verdant with Thai cultural and family entertainment. Recreational activities include elephant rides, cycling and boating. There is a daily Thai cultural performance and elephant show. Located at kilometre 163 on Sukhumvit Road. Open 8am-6pm.
The Sanctuary of Truth: Centrally located on Soi 12 off Th Naklua, this massive, spectacular and distinctly Thai wooden structure was constructed using ancient Thai ingenuity (no metal nails). Carved wood sculptures adorn the interior – the use of art and culture a reflection of the ancient vision of Earth. It was constructed to withstand the high winds and other elements at its Rachvate Cape setting. Open 8am-6pm.
Mimosa Pattaya: Located close to the city, this sprawling 'City of Love' concept is set on 20 acres. Its French-style architecture provides an elegant shopping and dining atmosphere, of which the choices are many. Glamorous Broadway musicals and colourful cabaret shows are staged, while the Romantic Zone was inspired by ancient Germanic and French architecture. Open 11am-10pm daily.
Ripley's Believe It or Not: The famed global freak show franchise is located on the third floor of Royal Garden Plaza and features more than 300 exhibits at 10 themed galleries – all rooted in the strange, the shocking and the beautiful. The other attractions include The Infinity Maze and Ripley's 4D Moving Theatre. Open 11am-11pm daily.
Koh Kham: A tiny island off Sattahip district serving as a nature classroom for visitors who want to learn about the sea environment. You can also explore the island along wooden pathways and view a coral garden. The boat to get there departs the Thai Island and Sea Natural History Museum. Open 9am-4pm daily.
Tiffany's Show: This long-standing, world-renowned ladyboys show is a sensation mix of dance, music, costumes, entertainers and stage settings – from a Bollywood-influenced musical and a Korean fan dance to slapstick burlesque and a Broadway spectacular. The show runs for an hour and is a great accompaniment to a night out. Located 2 nd Road Pattaya. Shows at 6pm, 7.30pm and 9pm daily.
Chong Samae San: A long-established finishing village that provides good fishing options. You can rent fishing equipment in the village and a boat. Located about 45 minutes from Pattaya, the village is the staging point for a chartered trip to nearby islands under the jurisdiction of the Royal Thai Navy.